My Wedding Planner
A Complete List of To-Do's Before You Say I Do
My Wedding Planner is a multi award winning wedding planner book that lists everything you need to do before you say "I do". 
Have you just recently got engaged or are you looking for the perfect engagement present?
Well, look no further as you have found exactly what you need … My Wedding Planner. Keep reading as I will tell you all about this wedding planner book.
As I primarily sell this planner online (although it is stocked in a select few boutiques and gift shops in Ireland) I thought it would be a nice opportunity to share with you the story behind My Wedding Planner.
Why Did I Create It?
During our own engagement, I searched for a detailed wedding planning book with a complete wedding "to-do" list for getting married in Ireland, but had no luck. I found lots of American wedding journals and generic wedding planners but there was nothing detailed in them and I really wanted an Irish one just I just couldn't find! And so, I planned our wedding on Excel spreadsheets, in different diaries/journals (as I am addicted to stationary), different checklists from multiple websites, wedding planning notes from friends, my sister-in-laws etc.
On honeymoon as Niall and I chatted about our big day, I kept coming back to saying how much easier the planning would have been if there was a wedding planner book with lots of checklists that listed everything you needed to do to getting married in Ireland.  In true Niall fashion he said "So create one"! And so My Wedding Planner was born!
What Is It?
This wedding planner book takes the soon-to-be-weds through all aspects of planning a wedding, allowing them to tick off all the essential elements of their big day. There are plenty of handy hints and tips about everything you need to prepare in advance from searching for the right venue, deciding on the budget, making sure the rings are covered by insurance, finding the perfect dress, getting your paperwork in order and lots more.
The planner is divided into different sections for planning your wedding with each section dedicated to specific topics (e.g. wedding ceremony & venue, bridal party attire, entertainment, required wedding paperwork and documentation, honeymoon, hair & beauty, wedding stationary etc).
Within each section there are lists for each topic designed to prompt and guide the bride-to-be to ask the right questions when meeting suppliers e.g. venue, photographer etc. The checklists ensure the bride-to-be does not forget anything in planning their big day.
There are also My Wedding Notes throughout the journal for jotting down your own ideas; make your own lists; stick in magazine clippings or swatches of your wedding dress etc. It is also very handy having the tables at the back of the planner to keep track of your budget, guest list, delegation list and so much more!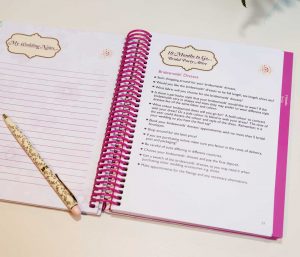 Multi Award Winning Wedding Planner
I so proud of My Wedding Planner and the journey it has taken. To have won "Best Wedding Planner" in the Mrs2Be Choice Awards in 2018 came at such an important time as I had just pressed pause on my HR career and had decided to go at the planner full time! 
And then in 2019 I won again for "Best Wedding Related Service" which was such an honour at it came at such a great time with having just rebranded from My Wedding Planner to My Wedding Shop.
What makes these Mrs2Be awards even more special is that they are based on reviews from customers who bought the planner and not on the number of votes!
How To Purchase My Wedding Planner
You can order online at www.myweddingshop.ie (and don't forget to check out our other products too!)
For all orders in Ireland, the planner is delivered by Fastway.  When placing your order you will not get an automated email reply as I email each customer individually so you have your tracking number but you should get this email confirmation within a couple of hours!
The planner is dispatched the day after it is ordered and you should have it then within 2-3 business working days but you will be able to track its progress on www.fastway.ie
If you are ordering the planner from overseas it will take much longer! Sometimes the trip to Australia or the US can take up to 3 weeks.  I send all international orders via An Post so you can track it on their website at www.anpost.ie  It is just such a pity registered post is so expensive and it keeps increasing too ☹
I personally package up all the planners ensuring they are nicely packaged and arrive safely to your doorstep.
Where Can You Find Us
You can find us on:
On these platforms I post lots of wedding inspiration photos, wedding and hen tips, real wedding features, Friday Finds, information on my products – well really all things wedding and hen related! So if you are planning a wedding or a bridesmaid (as I do lots on hen planning too) be sure to give me a follow 😊
Testimonials
My Wedding Planner has really grown in recent years mainly through word of mouth and from some fabulous bloggers who got engaged! I would also like to say that none of them were paid to talk about it and that makes it even more special that they took the time to post about it!
And if you have any questions for me on My Wedding Planner or anything else be sure to let me know! You can email me at may@myweddingshop.ie
Thank you